New eCommerce Design Launched
Today sees the unveiling of a brand new eCommerce website design for Sheffield based www.the-engravedgifts.co.uk. It's launch comes after two months of development and after what would turn out to be some 3,098 product combinations.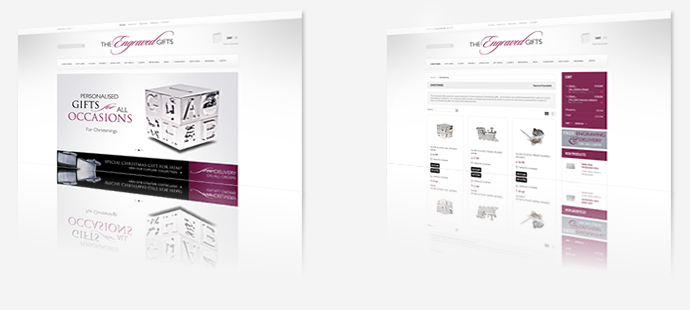 There are only 150 or so products at launch, with the website offering both free engraving and delivery on all items. While the majority of items come already gift boxed, some products such as the Zippo Lighters (by far the largest category) have the option of adding a gift box with lighter fuel and flints to the order.
It should also be mentioned that with the engraving there also comes the choice of font to have engraved? So, the simplest product combination would be a simple yes or no for engraving, plus if engraving was required the choice of which of seven fonts has to be considered. Two choices, seven fonts, equals 14 combinations.
If we add the option of a presentation gift box into the mix that would be an additional two choices, making a total of 28 combinations for such products. During the development we discovered six products... which ended up having 70 combinations each!
With there being a choice of font to engrave, obviously there had to be a method for displaying the fonts for selection. Nearly everyone surely knows what Times New Roman looks like, but not everyone will know their Shelley Allegro's from their Zapf Chancery Medium Italic's.
There did of course also have to be a way for the text to be engraved, be added by the customer and included when placing the order. All such complexities were built into the final eCommerce solution, along with a myriad of other features.
The site comes with all the kind of features you'd expect to find on any eCommerce website... and then some. All of which can be fully managed independently by the client.
Here are just a few of the features:
Unlimited categories & sub-categories, unlimited products & combinations, stock management, export items directly to eBay, the ability to sell downloadable products such as .mp3's, ability to compare products side by side... the list goes on and on. There are literally hundreds of features all aimed at increasing sales with minimal effort from the client, certainly too many features to list here.
Favorite feature on the site... other than those already mentioned has to be the choice of whether to display products in either a list or grid view. Don't ask why, it just simply fulfills the inner geek.
If you would like to know more about eCommerce website design and how design dpi can help, simply find out about eCommerce design.